Your Consultation
Your consultation consists of discussing design ideas, sketching, and viewing fabric. Once you have booked your appointment, the sketching and sourcing process will begin. The sketches will be based on any reference and style details submitted by the client via email or initial conversation. Please note that we do not replicate another company/designer's work under any circumstances. You are however welcome to send images as design references. A sketch will be presented to the client during the bridal consultation. Adjustments and changes will be made to the design during the appointment or submitted via email within 10 days after the appointment. Once the final design has been approved, the client will receive a 3d mockup of her dress design via email within 14 days. The client will also receive physical fabric samples in the mail and/or pictures of fabric samples via email for approval. Once we've finalized the design, fabric, and price, you will receive an invoice and contract via email that must be signed and returned in order to begin processing your order.
 Turnaround Time
The turnaround time for custom-designed wedding gowns is 8-10 months. Please inquire via email about our expedited service options if needed. Please note that an additional fee may be required. We do not alter expedited and shipped orders.  Alterations for expedited orders are only allowed for clients that are able to fit the final product in person.  
Fittings
1-3 fittings are recommended for all custom bridal orders. The first fitting is a muslin fitting. Muslin is a cotton fabric that is cut to the style and fit of your dress. The second fitting is a fitting of the actual dress. Adjustment and final construction is then completed. Please note that no more than 3 people are allowed to your in-person fittings.
Options for Brides outside of NYC:
You can send measurements via email then, come to NYC to fit your gown. We then alter the dress and ship it to you. The bride is financially responsible for additional alterations.
Send your measurements, we will complete the dress and send it to you. The bride must have an outside tailor make any needed alterations and is financially responsible.
Send your measurements, the designer will then travel to you ( at an additional fee) to fit your dress in the actual fabric. We then complete the dress and ship it to you.            
Cost and Payment
Custom wedding gowns start at $5,000. A deposit 50% deposit is required to begin processing your order. The remaining balance is paid at the second fitting. We encourage our brides to place a deposit as early as possible to secure a space on our production calendar as our bridal spots are limited and fill quickly.  All payment types are accepted. A 2% processing fee is added to payments made using a credit or debit card.
Bridesmaids Dresses:
Our Bridesmaid's dresses start at $1,200. A deposit of 50% of the total for all dresses is required. The person placing the order is responsible for the full amount. For brides unable to fit in person, The balance is due upon completion, prior to shipping.
Consultation Fee: $250
Our virtual consultation fee is $250. This fee is applied to your final balance and is non-refundable.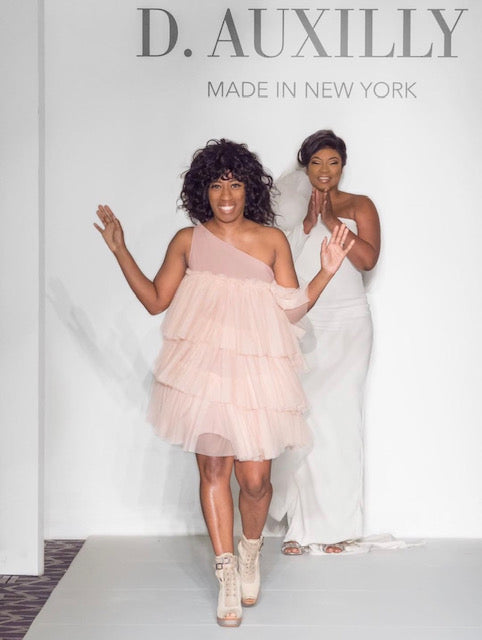 "Working intimately with my clients for 15+ years, I have honed my skills in crafting one-of-a-kind gowns. My focus is to create designs that accentuate my client's unique style and figure, while incorporating my signature techniques and aesthetics." - Dominique Galbraith